When you plan for your travel, it always feels so heavy on the head regarding the expenses and the budget, right? Not only you, everyone feels the same way as I have shared in my previous articles. This article is about a bit of insight into The best travel credit cards in India.
As nowadays travel credit cards are very much in demand that I too have recently applied for it.
and nowadays everyone becomes so smart and technology is very much advanced that we no more have to wait for the discount or coupons. After knowing the benefits of travel credit cards you will be amazed to know that it's still possible to travel for free.
So before getting on to real things, make sure you read the information completely & carefully. So lets dive-in!
Relevant Read: Smartest Travel Hacks Which Can Save Your Time And Money
Best Travel Credit Cards In India:
1) Air India SBI Signature Card
Air India SBI card is really doing well in the market from the last many years and earned a reputable customer base. Every year its policies and benefits get altered but current benefits are good enough to go for it.
SBI Air India Signature Credit Card Miles Earn Rate:
4 Reward points(RP) for every ₹ 100 spent anywhere
20 RP for every ₹ 100 spent on Air India tickets
Bonus Milestone Rewards:
20,000 RP  on spending 5 Lakhs/Year
30,000  RP on spending 10 Lakhs/Year
50,000  RP on spending 20 Lakhs/Year
Welcome,/Renewal Bonus:
Welcome Bonus: 20,000 RP
Renewal Bonus: 5,000 RP
1 RP = 1 Air India Mile
Unlimited Visa Lounge Access In India.
2) SBI IRCTC Credit Card
This is such a cool benefit card for travelers who love to travel by train. This card has such wide connectivity that no matter where you are, you can book your train tickets from anywhere through this card. The best thing is that you get up to 10% Discounts & Rewards from booking through this card.
For detailed information visit here
3) Citi Premier Miles Credit Card
It is one of the premium cards in our country which is issued by well known Citi banks under the VISA signature variant. This card comes with an annual fee of Rs 3,000/- The best thing which I like about this card is that you can transfer your Reward points to any hotel/international airline loyalty programs and get benefited from it.
Citibank Premier Miles Reward
Earn 4 Miles for every Rs 100 spent simply
Earn 10X points with some of its specific partners like Makemytrip and many more
1 RP(Reward Point) = Rs 0.45
Reward rate = 1.8% in total
Pro Info –  You will get 10,000 Miles which is equal to INR 4500 as a welcome bonus
4) Axis Bank Privilege Credit Card
So to make the full benefit of this card you must spend Rs 2.5 Lakh first and after that, you will get Rs 5000 as a valuable bonus from yatra which you can utilize in rewards and loyalty points to book tickets or hotels. If you are an enthusiastic traveler then this travel card is definitely for you.
Axis Bank Privilege Credit Card Reward Points
10 points on every Rs 200 spend (1% Reward Rate)
Special Spending Bonus: You will get Rs 5,000 as a yatra voucher for every Rs 2.5L spend ( 2% Reward Rate)
You have to use your card 3 times within 2 months to avail benefits of the voucher.
Joining/Renewal fees: Rs 1,500 + Tax (Renewal Fee waive off on Rs. 4 Lakh Spend)
5) HDFC Diners Black Credit Card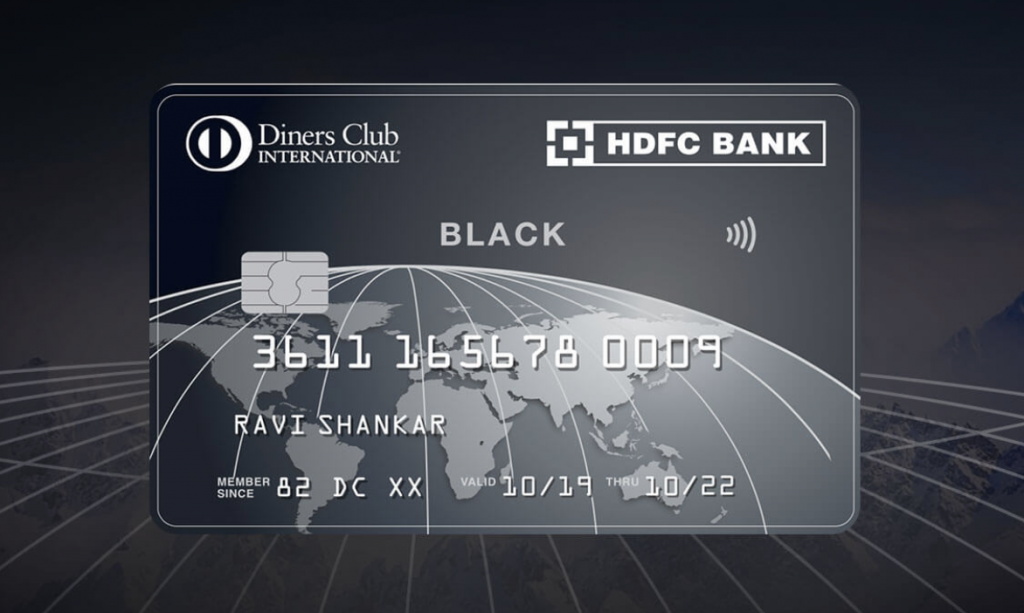 This is one of the premium credit cards provided by the HDFC bank itself. But this card is different from other HDFC credit cards because this diner card is issued by the Diners international itself whereas other HDFC Infinia card is either issued by Mastercard or VISA.
HDFC Diners credit card benefits:
Special 10X rewards on your travel.
6 complimentary Golf Games per quarter
The floor limit for usage of the credit card usually lies between 4-8 Lakh.
3.3% off on all retail spends (Best offer)
Let's say you spend Rs 1 Lakh on your credit card, so you can save Rs 3,300 value points no matter where you have spent and there is no upper limit, Cool?
And when you spend with 10X partners. For example, if you spend 50,000 INR on 10X partners, you can save approx Rs. 16,500. That's so much money to save, isn't it worth to go with?
6) Amex Platinum Travel Credit Card
With an 8% reward rate, this travel card is on boom in India right now, Trust me. You may have heard of American express before. They have excellent customer service with worldwide operations running and customers don't get any issues regarding the services no matter wherever you are.
Amex travel card benefits and rewards
If you are a frequent traveler with Indigo airlines then Kudos to you – You get Special indigo vouchers for free
Amex fuel cashback offers with other Makemytrip benefits makes you a lucky traveler with this credit card.
Welcome Offer: Rs. 4,000 Worth Indigo Vouchers for free
Spend Rs.1.90 lakhs in a year to get Rs.7,700 Worth Spicejet Vouchers for free
Spend Rs.4 lakhs in a year to get Rs.11,800 Worth Spicejet Vouchers + an additional Rs.10,000 free Voucher from the Taj Group of Hotels.
Summary
So I hope now you have some rough idea in your mind regarding what are the different benefits and rewards you can get from travel credit cards and what to look for. In India, most people are against travel credit cards and they prefer to spend in cash or debit cards. The reason is they are afraid of annual fees and over-interest by banks.
Ya, sometimes some banks have hidden costs that are unaware of the users which is totally true but if you read and suspect all the details carefully then no one can misguide you.
If everyone chooses their method of payment wisely after accurate research and compares all the top company's policies and plans then you can save a lot of money which you can't even imagine. But for that, you have to travel frequently. Otherwise, there is no benefit to pay annual fees for your travel credit cards.
So hoping you can take something from this article.
Till then Happy Traveling
See you down the road very soon!
The Divine Traveler logging off for today!